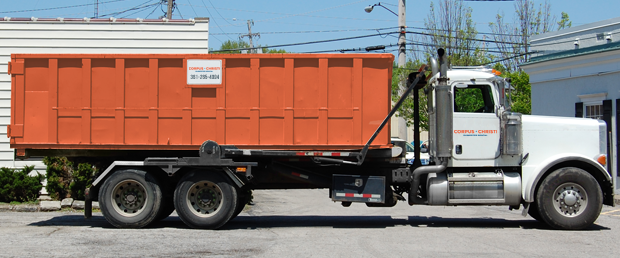 Great Service for a Great City
What makes Corpus Christi great is not Whataburger field or Texas A&M's football franchise. Rather, it's the people and institutions that call Corpus Christi home that make it such a great place to live and work. And while we don't really consider ourselves an institution of the city, we certainly believe that our services play a vital role in keeping the city clean and green. That's why we ensure that every aspect of our service is up to par, because the people of the Real Windy City deserve more than just a fly-by-night dumpster service. They deserve a dumpster rental service that will be able to cater to their disposal needs and provide a friendly and inviting customer service experience.
And that's exactly what we deliver here at Corpus Christi Dumpster Rental. We approach a customer's order the same way a butler approaches his employer: with all the courtesy and attentiveness they expect. Each time a customer calls us up, we're there helping them out with their order quickly and with all the professionalism they would expect from any other service. And whenever a problem occurs, we own up to it and have it resolved promptly to ensure our customers can keep to their own schedule.
Convenient Dumpster Rental
Flexible delivery and pickup schedules
No need to wake up at the crack of dawn to get the trash out on the curb!
Order any number of bins that you need
Avoid paying extra with our flat rate disposal fees!
Take care of all the trash you have in one fell swoop
What Makes Our Service Different?
When you spend as much as we do dealing with trash, you start to notice some trends within the industry. One of the trends we've noticed within our little niche, namely dumpster rentals, is a pricing model that obscures the final cost to the consumer. This usually takes the form of charging a customer by the ton, which is a fixed rate for each ton of debris disposed of through their service. While this might seem like a good deal for the customer, it is often a result of the hauler's desire to hide the fees they will charge in addition to the charge for each ton of debris. So by the time the final bill arrives the customer is essentially forced to do a hand count of every single charge to figure out how the hauler reached the final cost.
For us here at Corpus Christi Dumpster Rental, this strikes us as a bad way to do business. That's why we charge a flat rate for each container we offer, that way the customer always knows what they are going to pay for their bin. Each roll-off container has a set price that allows a customer to throw out a specified amount of waste. The specified amount usually comes down to however much debris can fit inside the container without filling it past the height of the bin. There are also weight restrictions for each dumpster that must be taken into account, but so long as you are throwing out non-heavy debris, you should be safe.
Where Does My Debris Go?
Every single bit of debris we collect has to go somewhere, and in most cases, that somewhere is a landfill. Solid waste from homes and businesses is referred to as municipal solid waste and can consist of everything from used paper to an old bureau. Of course, some of the items you'll find in our dumpsters will be taken to different facilities based on where they need to go and how much of it there is. Some recyclable items, such as plastics and aluminum, may be sorted out of the pile at a local transfer station or landfill. These materials are easily recycled and can also provide a separate source of income for the facility.
Once the debris reaches the local landfill it is weighed and deposited in a particular part of the site. All of the material dumped at the site is compacted using specialized bulldozers. These vehicles are equipped with studded wheels that flatten the trash as they pass over the piles. The resulting compaction squeezes air and moisture out of the waste, resulting in an internal environment that is relatively dry and oxygen-free. As a result, a lot of the debris placed inside a landfill remains well-preserved for years after. In one instance, an intact newspaper from the 1960's was unearthed in a closed landfill that was in operation for over three decades.
What About My Recyclables?
While we strive to be a clean and green company, we cannot recycle everything that is placed inside a dumpster. In some cases, recyclables placed inside a household debris bin will be sorted at the disposal facility and sent to recycling plants. However, since there are usually a lot more landfill materials in our dumpsters, these recyclables cannot always be separated from the rest of the debris.
Other debris types, such as construction debris, can be recycled with greater efficiency. The most commonly used construction materials, such as drywall, wood, metals, and concrete, can be reused entirely or broken down and incorporated into brand new construction materials. For instance, concrete cinder blocks can be reused over and over, and other concrete waste, such as rubble, can be pulverized and used to make new concrete.
Metals are also frequently recycled due to their value as a commodity. Steel and aluminum are among the most commonly recycled metals in the construction industry due to their extensive use in the construction of buildings. Steel is used to build the framework for larger structures, such as office buildings and skyscrapers. Aluminum is often used to build studs for adjoining rooms. They are used in place of wood studs, which are more common in residential construction.
If you are concerned about the final resting place of your debris, you can rest easy knowing that Corpus Christi Dumpster Rental is taking care of it. We'll ensure that everything is disposed of properly and in a way that minimizes your impact on the planet.